All-Purpose Rinse Free Cleaning Spray


In Stock
This

 

Rinse-Free Spray Cleane

r is a powerful foaming cleaning agent. It is not only

 

suitable for the toughest kitchen stains and messes

 

but also can quickly

 

clean fabrics, leather, toilets, floors

 

and

 

your entire car!
Non-toxic formual with no chemical bleach, it can be safely used for pet stains without harming pets. No water rinse required!
Rinse-Free Spray Cleaner 
doesn't have any precautionary or hazardous material statements. It's even earned the EPA's Design for the Environment Certification (DfE) for its incredibly low impact on the planet.
Replace your general cleaner, for a ALL-IN-One!
​Instantly Remove Grease or Grime
​Freshly Scented, Non-Toxic, No Chemical Smell
​Works on all surface including fabric, canvas, finished leather, PVC, glass, vinyl, plastic, rubber, metals, wood, gel coat, fiberglass and more!

​Rinse Free formula, nano bubble technology bursts away dirt and grime without having to rinse with water.
 Frequently Asked Questions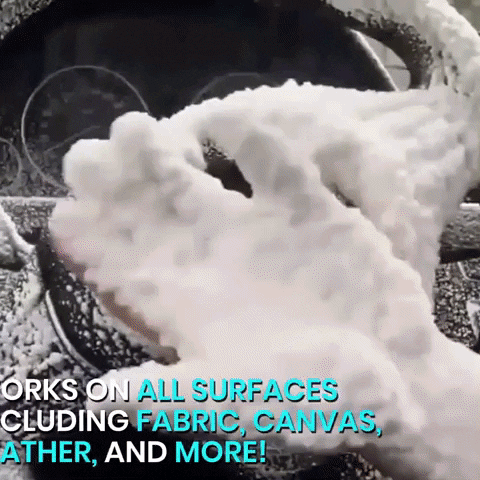 Can it be used on granite counters?
It can be used on virtually any surface.
Can this be sprayed on a leather couch?
To clean the leather items, just spray it and wipe it dry with no waiting period. However, to clean and kill germs spray the items, wait 30 seconds and wipe them dry with a clean paper towel or rag.
Can I use it as a mattress cleaner?
It cuts through deep stains in mattreses, the "Bursting Bubbles" blast away and stains and dirt left from the years of using your mattress.